slider główny EN

Thank you for participating in the fair!
Trade fair the powerhouse of the fastener industry !
18-19 October 2023, Krakow, Poland
6th International Trade Fair for Fastener and Fixing Technology
FASTENER POLAND®
Trade fair the powerhouse of the fastener industry!
25th-26th September 2024, EXPO Krakow, Poland
7th International Trade Fair for Fastener and Fixing Technology
FASTENER POLAND® – the fastener industry celebration is now over
Two days of industry meetings, thousands of conversations, guests from dozens of countries, an expert conference, novelties and premieres. This is how the 6th edition of the International Trade Fair for Fastener and Fixing Technology FASTENER POLAND® looked. Exhibitors and visitors leaving EXPO Kraków after the trade fair commented very positively about it. They paid attention primarily to specific and substantive conversations and the high business potential of the FASTENER POLAND® Trade Fair.
Photo Gallery FASTENER POLAND® 2023
List of exhibitors

Exhibitors' Catalogue

Exhibitors' products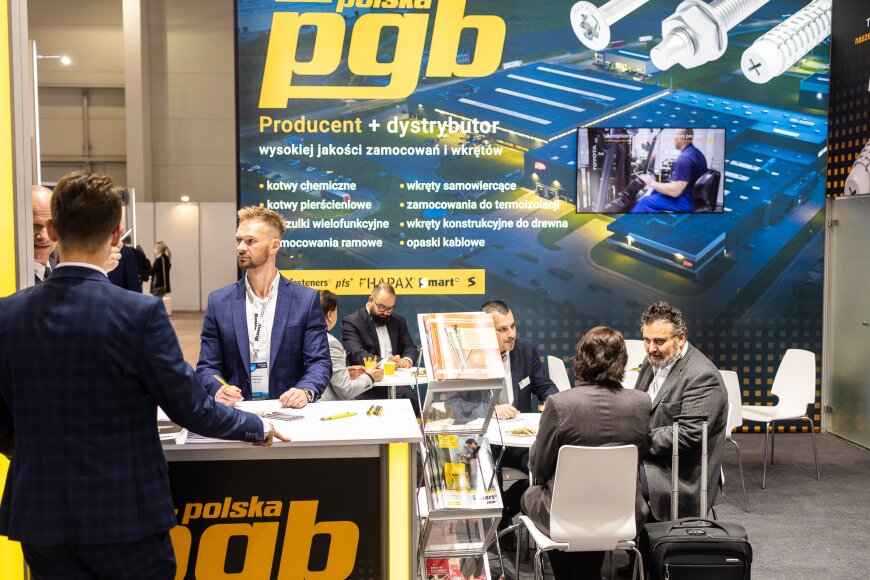 FASTENER POLAND® Trade Fair is a convenient space for decision makers, engineers and purchasing professionals from key manufacturing sectors to meet with leading fastener manufacturers from around the world. The show provides insight into industry trends and provides key information on the latest developments in the fastener and fastening sector.
For Exhibitors, participation in FASTENER POLAND® is an excellent opportunity to reach thousands of specialists in one place and at the same time and to present innovative solutions, which translates into strengthening the market position, brand recognition, and, most importantly, maximising profits while saving time and money.
A wide offer of technologies and products attracts Polish and foreign specialists, who unanimously claim that FASTENER POLAND® within only three editions has become the most important industry meeting forum in Central and Eastern Europe.
FASTENER POLAND® fair is not only business contacts, a rich conference and workshop program, a competition that awards cutting-edge technological solutions, but also a cooperation exchange and a career zone, where entrepreneurs have the opportunity to post job advertisements and reach several thousand highly qualified candidates.
Fastener zone for the energy, electrical and renewable energy sector
This unique area at the International Trade Fair for Fastener will provide an opportunity for buyers to network with manufacturers and distributors. Poland ranks among the top ten countries in the world in terms of the size of the photovoltaic market. In Europe, only Germany and Spain are ahead of us in this respect. The industry is recording continuous sales growth and is developing dynamically. As a result, there is a growing demand for components, in particular specialised and quality fasteners for the photovoltaic and solar technology markets. The fasteners market is responding to these needs by designing and supplying the best solutions with enhanced resistance to difficult conditions in which solar systems are used. Manufacturers and distributors of fasteners and fixing for photovoltaics, power and electrical engineering are invited to present their technologies and fasteners.
Your stands will be visited by:
manufacturers, suppliers, distributors, installers of photovoltaic and solar products and solutions;
producers, suppliers, distributors, assemblers of hydro, wind, geothermal and biomass energy products and solutions;
designers and integrators of PV and ST systems;
EPC project contractors;
providers of grid infrastructure and renewable energy integration solutions.
Contact with us
If you have any questions - write to us.
For many years, we looked for a venue where we could exhibit our fixing systems, and FASTENER POLAND® is a specialized fastener trade show. We are glad to have it in Poland, especially since it seems to attract more and more interest as the years go by. We see guests not only from Poland, but also from neighbouring countries and even other continents. I believe it augurs well for Poland and our domestic producers.

Our presence at FASTENER POLAND® is no coincidence. We are returning to trade shows after a hiatus of several years and we are very glad. The turnout has been good and we made many new contacts that we wouldn't othervise be able to acquire. We are optimistic about returning for next year's edition as well. I hope that FASTENER POLAND® will gather more and more momentum because our industry needs it.

We have travelled all over the world to meet our clients and forge new contacts. Today, we are back on our own turf; the magic of Kraków is well perceived, and I believe it's high time that the fastener industry begins to grow in strength right here.
Tomasz Karwowski

Sales Director, Dromet Sp. z o.o.

Ryszard Dworak

CEO - INOXA Sp. z o.o.

Tadeusz Jopek

Deputy Chairman of the Board, Śrubena - Unia Sp. z o.o.
We are a member of: